Noida, 8

th

June 2017:

The final day of the league stages at the 68

th

Junior National Basketball Championship threw no major surprises. The Punjab boys continued to dominate outclassing the defending champs Tamil Nadu. Role players Mandeep Singh (20 points) and Gurwinder Singh (18 points) stepped up to lead the charge for Punjab. 6-foot 10-inch Punjab centre Princepal Singh held the fort in the middle and put up 12 points. Despite Tamil Nadu staying within reach for the first three quarters, the fourth period was a one-sided affair with Punjab outscoring TN 32 to 7 on their way to a 68-45 win.
The Rajasthan boys handed Chhattisgarh their fourth straight loss, knocking them out of the tournament. Chhattisgarh's Salim Ali fought hard with his 25 points, but he had little support. Rajasthan's Rajeev led all scorers with 28 points and helped to cement his team's place in the quarterfinals tomorrow where they will face Chandigarh.
The Punjab girls pulled off a close win against Rajasthan, who fell to a 71-69 defeat. Forward Rajandeep was on fire with 30 points in the game. She was ably supported by Punjab centre Aakarshan who put up 14 points. Despite Rajasthan's 31 points fourth quarter, Punjab held on to a slim lead to clinch a decisive victory, placing them in the quarterfinals tomorrow against defending champions Karnataka.
Later in the day, the Chhattisgarh girls ran past the defending champions Karnataka in a surprisingly one-sided game. Chhattigarh led from start to finish, behind Gulabsha Ali's 26 points and forward Megha Singh's 20 points. The fourth quarter was the icing on the cake for Chhattisgarh, as they clamped down on the defensive end, not allowing Karnataka to score even a single point. Chhattisgarh ended the game up 30 points to seal a 75-45 win.
The undefeated teams in girls' Group B squared off to decide the pool toppers today evening. Tamil Nadu and Maharashtra were evenly matched, until an explosion of offense in the third quarter pushed Tamil Nadu ahead. TN's Pushpa had a game-high 36 points, helping her team to a 91-78 win, finishing the league stages with a perfect record. TN forward Avanti (16 points) and point guard Nishanthi (13 points) also contributed.
Both the UP teams won their qualifying matches against the Madhya Pradesh teams to decide their pre-quarterfinal opponent tomorrow. The UP girls have chosen to face Rajasthan in their pre-quarterfinal game, while the boys will play against Haryana.
Results from 8
th

June 2017

Women:

Level 1

Group A
Gujarat (Tavleen 33, Riya 12) bt Delhi (Meena 25, Shubham 13, Sushantika 11) 56-55 (9-20, 12-9, 14-2, 21-24)
Chhattisgarh (Gulabsha Ali 26, Megha Singh 20, Mahima 17) bt Karnataka (Rajvi Jain 12, Sanjana Ramesh 11) 75-45 (23-13, 12-20, 19-12, 21-0)
Group B
Punjab (Rajandeep 30, Aakarshan 14) bt Rajasthan (Ishika 21, Yashvani 16, Yashika 11, Kanika 11) 71-69 (19-20, 15-10, 13-8, 24-31)
Tamil Nadu (Pushpa 36, Avanti 16, Dharshini 13, Nishanthi 13) bt Maharashtra (Shreya 14, Anshika 6, Sakshi 6) 91-78 (22-23, 14-18, 30-18, 25-19)
Qualifying match from Level 2 to Level 1*
* Both these teams have already qualified for Level 1 from Level 2. This match is played for the only reason that the winning team gets to choose its pre-quarterfinals opponents.
Uttar Pradesh (Vaishnavi Yadav 28, Reena Patel 15) bt Madhya Pradesh (Isha Chouhan 23, Vanshita 14) 81-60 (24-18, 19-15, 22-6, 16-21)
Loser Knockout Semi-Finals
Odisha (Lipramayee 33) bt Telangana (Nashita 15, BS Rivani 10) 53-39 (17-8, 6-12, 14-7, 16-12)
Chandigarh (Amrit 18, Nisha 16) bt Himachal Pradesh (Arunima 4) 61-12 (27-4, 11-2, 9-2, 14-4)
Men:
Level 1
Group A
Punjab (Mandeep Singh 20, Gurwinder Singh 18, Princepal Singh 12) bt Tamil Nadu(Shanmugam M. 15, Arvind Kumar 10) 68-45 (12-6, 9-17, 15-15, 32-7)
Rajasthan (Rajeev 28, Ataol 16, Ashish 12) bt Chhattisgarh (Salim Ali 25, Jatin Kumar 14) 68-52 (16-8, 24-15, 11-16, 17-13)
Group B
Maharashtra bt Chandigarh 24-14 [Match stopped and awarded to Maharashtra]
Delhi (Manik 21, Aditya 17, Nitesh 14) bt Telangana (Srinivasa 14, Dinesh 13) 84-54 (21-15, 22-11, 21-17, 20-11)
Qualifying match from Level 2 to Level 1*
* Both these teams have already qualified for Level 1 from Level 2. This match is played for the only reason that the winning team gets to choose its pre-quarterfinals opponents.
Uttar Pradesh (Shivendra Pandey 23, Akshay Sharma 18, Bhagyansh Gulati 17, Prasun Mishra 16) bt Madhya Pradesh (Puneet Tripathi 26, Yogesh J 16) 90-60 (11-15, 22-14, 27-16, 30-15)
Loser Knockout Semi-Finals
West Bengal (Binod 20, Saddam 16, Aditya 13) bt Himachal Pradesh (Jatin 20, Gurkaran 12) 75-54 (15-19, 26-14, 23-15, 11-6)
Gujarat (Karan 17, Harsh 15, Krishna Pal 7) bt Jammu and Kashmir (Sumit 18, Abhinav 11) 68-44 (32-9, 8-8, 15-17, 13-10)
About the 68
th

Junior National Basketball Championship 2017

The teams are grouped into two levels –Level 1 features the top 10 teams from the previous championship divided into two groups of five teams each (Group A and B), while Level 2 features the remaining teams divided into four groups (Group C, D, E, F).

In the league stages, all the teams play each of the other teams in their group once. The top three teams from each of the groups in Level 1 advance directly to the quarterfinals, while the fourth placed teams play pre-quarterfinal games against the top two teams from Level 2.

Over the years, this Championship has provided a platform for the country's best players in the U18 category to showcase their talents. This allows selectors to identify and shortlist the most promising players and coaches to parachute into national team training camps with an eye towards participation in international events.
Edit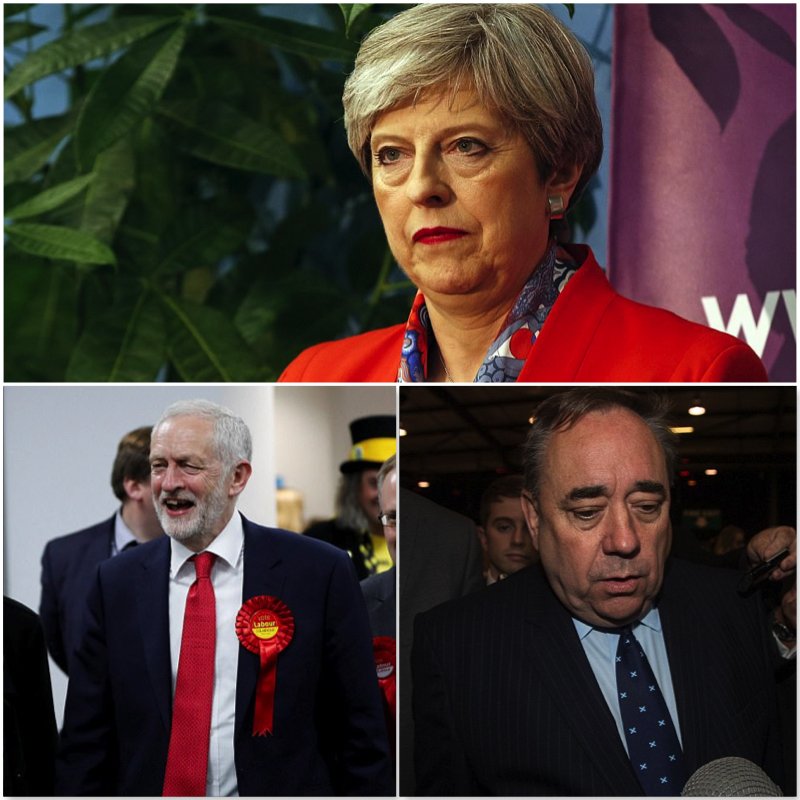 Britain's ruling party Conservative Party in-spite of garnering the largest force in parliament, still is short its majority in Thursday's general election.
Home Secretary Amber Rudd has held on in Hastings and Rye by just 300 votes.Labour has unseated the Conservatives in Canterbury which has been Tory since 1918. Jeremy Corbyn: "Politics has changed and politics isn't going back into the box that it was in before". Ben Gummer, the author of the Conservative manifesto, has lost his Ipswich seat to the Labour Party.Nick Clegg has lost his Sheffield Hallam seat to the Labour Party. Vince Cable returns to Parliament after unseating the Conservatives in Twickenham.The SNP's Tasmina Ahmed-Sheikh has lost her seat to the Scottish Conservatives. SNP's deputy leader, Angus Robertson, has lost his seat to the Scottish Conservatives. The SNP's John Nicholson has lost his seat to Jo Swinson of the Liberal Democrats.Esther McVey returns to Parliament after being elected in George Osborne's former seat of Tatton
Mostly all the ballots have been counted, 646 of the 650 seats have been decided.The ruling conservative won 315, the opposition Labour Party won 261. Regional the Scottish National Party secured 35 seats and the Liberal Democrats have 12.Nicola Sturgeon admits to 'disappointing losses' and vows to 'reflect' on the issue of a second referendum.
The Conservatives suffered a sharp drop from their pre-election total of 330 seats. Majority stands in parliament with number 326 seats are needed .
This is the third British election with no clear winner since the end of World War Two.The Conservative Party will now consider whether to form a coalition.
The party's poor performance is expected to heighten criticism of Prime Minister Theresa May for her decision to call a snap general election.
Theresa May faced pressure to resign on Friday after losing her parliamentary majority, plunging the country into uncertainty as Brexit talks loom.
May called the snap election in April in an attempt to extend her majority and strengthen her position, but her gamble backfired spectacularly after she failed to win enough seats to form a Conservative government.
Sterling sank against the dollar and the euro as investors questioned who was now going to control the Brexit process.
EU Economy Commissioner Pierre Moscovici said May had "lost her bet", while the timetable for Brexit talks, due to begin in 10 days time, has been thrown into disarray, raising suggestions that it could be extended.
She also faced pressure to quit from inside and outside her party after a troubled campaign overshadowed by two terror attacks, although British media quoted party sources saying she had "no intention" of doing so.
The result is also likely to have an impact on Britain's negotiations to leave the European Union.
Media agencies