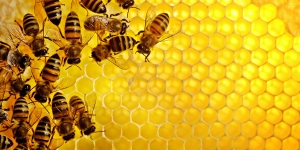 Bees are facing a giant global crisis that threatens our food supply. Now Canada is considering
a
game-changing ban on one of the worst bee-killing chemicals.
But Big Ag is fighting back, and it's up to us to stop them. Let's back bees!! Sign with just one click:
Dear friends,
Imidacloprid is a terrifying chemical used on much of the world's fruits and vegetables — and
it's threatening our web of life from bees to insects.
Now

Canada could ban it.

They've opened a public comment period to help them decide, but industry bullies are lobbying to protect their multi billion-dollar product.
Let's get Canada to stand strong!
Add your name to the petition below
with just one click
, and before the comment period closes, we'll send the government the biggest call ever to block the bullies and back the bees.
To Prime Minister Justin Trudeau, all World Leaders and agriculture ministers:
We call on you to immediately ban the use of neonicotinoid pesticides. The catastrophic demise of bee colonies could put our whole food chain in danger. If you act urgently with precaution now, we could save bees from extinction.
Bees and insects like mayflies and midges are remarkable creatures that create the building blocks for life on Earth. Bees alone pollinate nearly three-quarters of the world's key crops. But experts say imidacloprid is
linked to colony collapse for bees and widespread loss of insect populations
— threatening our natural world and our food system.
Monsanto is vying to merge with Bayer, and Dow Chemical with DuPont. These beasts are growing in power, and pushing to keep their poison on the shelves. But
Europe already stopped the use of this bee-killing chemical after Avaazers flooded ministers
with thousands of messages. The next step is Canada. If we can close those markets, it could trigger a domino effect and get countries everywhere to follow suit.
Canada's public consultation could decide the fate of this poison
— if we weigh in big, and win, it could be huge for bees worldwide! The consultation closes soon — add your name:
Conservationist Rachel Carson, who led the charge to ban the chemical killer DDT in the US, once wrote: "
Those who contemplate the beauty of the earth find reserves of strength that will endure as long as life lasts."
Let's let the miraculous strength and beauty of the nature all around us be our inspiration to come together today and back the bees!
With hope,
Nell, Ari, Oli, Camille, Ricken and the Avaaz team
More information:
Chinese Foreign Minister Wang Yi, during a meeting here with his Japanese counterpart Fumio Kishida on Friday, urged efforts from both countries to bring bilateral ties back on the right track.
Wang and Kishida met on the sidelines of the Group of Twenty (G20) ministerial summit in Germany's western city of Bonn.
Wang noted that 2017 and 2018 respectively mark the 45th anniversary of the normalization of Sino-Japan diplomatic ties and the 40th anniversary of the signing of the Treaty of Peace and Friendship between China and Japan.
He said both countries should take the opportunity of these anniversaries, draw on past experiences on their relations, and work to consolidate the political foundation for bilateral ties, in a bid to bring bilateral ties back on the correct track.
Wang stressed that there are now both opportunities and challenges for improving China-Japan relations. He said the continous, negative moves made recently by Japan regarding major sensitive issues have caused disturbances to the improvement of bilateral ties.
He said only when Japan honors its commitments and adopts a responsible attitude, thus preventing the occurrence of incidents damaging the political foundation of the China-Japan ties can there be real improvement in relations.
Kishida said 2017 is a vital year for the China-Japan relations, expressing the Japanese side's willingness to handle differences between both countries well. He said Japan would work to make events marking the 45th anniversary of the normalization of Sino-Japan ties a success, giving a boost to the improvement of bilateral ties.
Saying Japan attaches importance to the major concerns raised by China, Kishida reiterated Japan's stance of not supporting claims of "two Chinas," "one China one Taiwan," and not supporting "Taiwan independence," saying the stance would not change.
Kunal Bhasin shines with a 66, in five-way lead with Mukesh Kumar, Abhijit Singh Chadha, Himmat Singh Rai & Khalin Joshi
Rookie Viraj Madappa fires day's best 64
Hyderabad, February 17, 2017:
Round two of the Golconda Masters 2017 witnessed a leaderboard logjam as five players shared the lead at seven-under-135. Australia's Kunal Bhasin produced a masterclass five-under-66 to be the joint leader along with Mukesh Kumar (67) of Mhow, Chandigarh's Abhijit Singh Chadha (67), Delhi's Himmat Singh Rai (68) and Bengalurean Khalin Joshi (70).
Reigning champion Ajeetesh Sandhu (67) was bunched together in tied sixth at five-under-137 along with Samarth Dwivedi (68), Angad Cheema (71), round one leader Sameer M Shaikh (74), Digvijay Singh (67), M Dharma (69) and Sri Lankan Anura Rohana (67).
Kolkata-based 19-year-old rookie Viraj Madappa also made an impact at the Hyderabad Golf Club (HGC) on Friday after he returned the day's best score of seven-under-64.
The cut was declared at two-over-144. Fifty professionals made it to the money rounds.
Kunal Bhasin (69-66), a three-time winner on the PGTI, zoomed up from his overnight tied 13
th
courtesy a brilliant 67 that was punctuated by six birdies and a lone bogey. Kunal earned a birdie for almost driving the green on the 15
th
and also chipped-in for birdie on the fourth.
The 37-year-old Mumbai resident Bhasin said, "I hadn't played from the start of the season till August last year as I had taken a break from the game for training on and off the course. When I came back in September I suffered a back injury. So that put paid to my hopes last season.
"But I feel my game and fitness are back on track now. I've worked on my mind and sharpened my mental aspect since the end of last year.
"I only had a bad stretch on the fourth, fifth and sixth in round one. I'm now nine-under over the last 30 holes with just one bogey since the sixth hole yesterday. It's set me up well for the last two days."
Mukesh Kumar (68-67) and Abhijit Singh Chadha (68-67) moved into the joint lead from overnight tied seventh having carded scores of 67. Chadha tapped-in for an eagle on the 10
th
on Friday.
Himmat Singh Rai (67-68) birdied all five par-3 holes and the 15
th
at the cost of a bogey and a double-bogey to gain three places from his overnight tied fourth.
Khalin Joshi (65-70), who was overnight second, also moved into the joint lead after a steady 70.
Haider Hussain (74-72), the lone professional from Hyderabad, missed the cut as he totaled four-over-146 to be tied 60
th
.
All six Hyderabad-based amateurs missed the cut. Rahul Ajay was the best performing amateur at eight-over-150. He was placed tied 79
th
.
Viraj Madappa's smooth transition to the pro ranks
Teenaged rookie Viraj Madappa seems to have made a smooth transition from the amateur to the professional circuit. Madappa, India's top amateur in 2015, had posted a creditable tied 31
st
finish in his debut event as a professional last week in Noida.
The six foot two inch tall golfer from Kolkata's Tollygunge Club, who had six wins against his name on the amateur circuit, once again impressed in round two of the Golconda Masters as he shot the day's best score of seven-under-64 to lie tied 13
th
at four-under-138 at the halfway stage.
It was a strong comeback for Viraj who began the week with a three-over-74 that had placed him tied 67
th
after round one. His error-free second round was highlighted by a magnificent tee shot on the 11
th
that set up a four feet birdie putt and a 25-feet birdie conversion on the fifth.
Viraj said, "I was more focused today compared to round one. I hit it long so that plays to my advantage here at the HGC which happens to be one of my favourite courses. I hit it close today, landing it within four feet on at least three occasions, to set up birdies. My short-game was also sharp.
"Last week when I made my debut as a professional, I was just getting comfortable with the new surroundings. It was different seeing a lot of new people around and playing alongside the likes of Gaurav Ghei and Himmat Singh Rai in my first event. These are people I have looked up to.
"I feel I'm more settled this week. Speaking to Shubhankar Sharma, whom I've known since my junior days, also helped me settle down.
"This year will be a learning curve as I have to see how the results work out for me after all the work I've put in. I feel I have the advantage of knowing most of the courses where the PGTI events are held.
"I also think that my temperament will be my strength. I wasn't very calm on the course when I started playing golf but gradually I've learnt not to show my emotions during competition," added Madappa, who admires golfers such as Bubba Watson, Phil Mickelson and Anirban Lahiri.