Clinton foundation linked to Swedish companies Tetrapak & Ericsson.
#
Haiti
By Prof Marcello Ferrada de Noli, Chairman, Swedish Professors and Doctors for Human Rights. This article reports the link found between the Swedish company…
AirAsia
enhances Asean connectivity with direct flights between Kuala Lumpur and Luang Prabang
● Airline is the first to operate this exclusive route, marking AirAsia Group's 70th intra-Asean route connecting all ten Asean countries
● Celebratory fares from RM99* one way in conjunction with successful inaugural flight
LUANG PRABANG, 21 NOVEMBER 2016
– AirAsia reiterates its commitment towards the Asean market with the inaugural flight of its brand new route connecting Kuala Lumpur directly to the UNESCO World Heritage city of Luang Prabang in Laos today, and is the first and only airline to operate direct flights between both cities.
The inaugural flight, AK562 landed with an encouraging flight load of 98%, and on board the flight were
Ms Aireen Omar, CEO of AirAsia Berhad
;
Dato' Hj Zainuddin Abdul Wahab, Director, Production Division, Tourism Malaysia
and
Spencer Lee, Head of Commercial for AirAsia Berhad
along with Malaysian media.
All guests on board along with the VIPs in the flight were welcomed with a water cannon salute, along with a traditional Lao performance at the airport upon landing.
H.E. Dato' Than Tai Hing, Ambassador of Malaysia to the Lao PDR, H.E. Dr. Bouakhong Namavong, Vice Governor of Luang Prabang, on behalf of the Governor of Luang Prabang, H.E. Mrs. Khamphao Ernthavanh, Vice Minister of Foreign Affairs of the Lao PDR, H.E. Mr. Ounethouang Kaophanh, Vice Minister of Information, Culture and Tourism of the Lao PDR
and
H.E. Mr. Inthanousorn Sisanonh, Deputy Director General of Department of Civil Aviation of the Lao PDR
were present to receive guests from this significant maiden AirAsia flight.
Commenting on the brand new intra-Asean connectivity,
Aireen Omar
said, "We are very happy to be the first and only airline to connect Luang Prabang to Kuala Lumpur directly. We are also pleased to be the airline that connects the people of Laos to two of the main cities in Asean; Bangkok and Kuala Lumpur which are both major AirAsia hubs. From there, Laotians are able to connect to over 120 AirAsia destinations throughout 27 countries. As a Truly Asean airline, we want to further champion connectivity to second and third-tier cities, and help to grow the market together."
The direct connectivity between Kuala Lumpur – Luang Prabang is AirAsia Group's 70th intra-Asean route connecting all ten Asean countries, as well as the airline's fourth route into Laos after Kuala Lumpur – Vientiane, Bangkok – Vientiane and Bangkok – Luang Prabang.
During the inaugural flight
celebration event and press conference which was held at Sofitel Luang Prabang, an award-winning heritage hotel blending French colonial and Lao style,
the airline also announced promotional all-in-fares for the brand new route starting from RM99* one-way,
available for booking online
at
www.airasia.com
and the AirAsia Mobile App from
now until 27 November 2016,
with the travel period from
now until 30 April 2017
.
A UNESCO World Heritage city, Luang Prabang is one of the most alluring places in Southeast Asia known for its Golden-roofed Wats, saffron-clad monks, faded Indo-chinese villas and exquisite Gallic cuisine and the scenic 18-hole golf course along the Mekong River. This former capital is located at the Northern Central of Laos, approximately 300km North of Vientiane at the sacred confluence of the Mekong River and the Nam Khan River.
Visitors can marvel at the stunning 'Tree of Life' mosaic set at Wat Xieng Thong, partake in the traditional alms giving with the locals, swim in the spectacular azure pool at the Kuang Si Waterfalls and savour Khao Soi – a popular local noodle soup dish that can be found at food stalls running along Luang Prabang streets.
*Promotional fares quoted are for one-way only including airport taxes. Terms and conditions apply.
Flight Schedule for Kuala Lumpur, Malaysia (KUL) – Luang Prabang, Laos (LPQ)
Note: All times depicted are local time at respective destinations.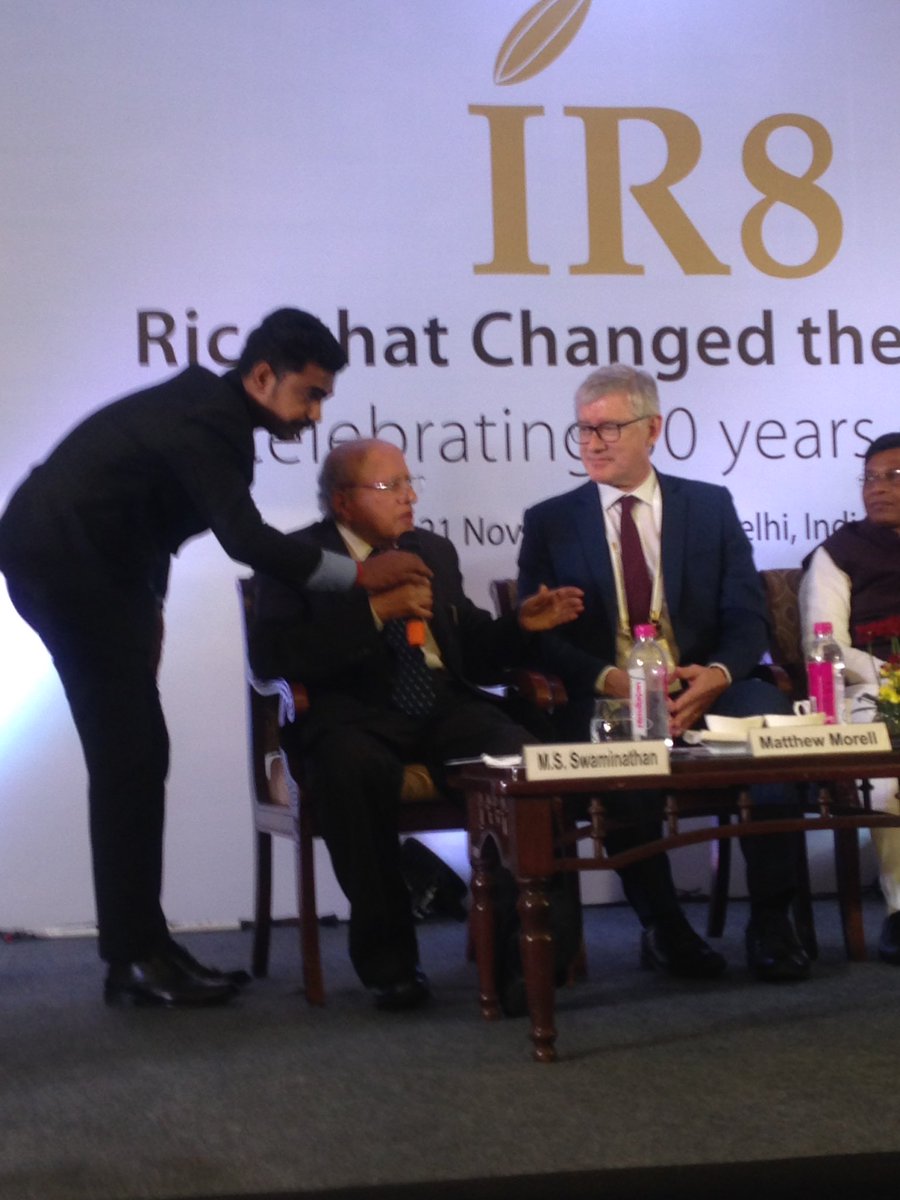 IR8, world's first high-yielding rice, turns 50
IR8 sparked the Green Revolution in Asia—a phenomenon that saved the region from famine in the 1960s and 70s. This scientific innovation was soon followed by other high-yielding varieties that each offered increasing vigor and resistance to pests and disease—the major scourges of that period. These varieties were also adaptable where they were most urgently needed: the Philippines, Vietnam, Myanmar (then Burma), Cambodia, Indonesia, Malaysia, and the biggest of them all—India.
A series of global
events
will take place in New Delhi on November 21 and at IRRI headquarters in the Philippines on November 29 to commemorate this milestone in food security.
"Miracle Rice"
In the 1950s, Asia was on the brink of famine and millions of people were in danger of starving. In 1960, IRRI was established with one pressing mission: to develop high-yielding rice varieties.
Thus began intensive research and breeding work that sought ultimately to enable the production of more—much, much more—rice than previously possible in order to stave off predicted mass food shortages across the continent.
IR8 is the first offspring of these efforts. It is a semidwarf rice and was the result of a cross between Peta, a tall vigorous variety from Indonesia, and Dee-geo-woo-gen, a dwarf variety from Taiwan.
In the 1960s, average yield in the Philippines was at about a ton per hectare. In initial tests at the IRRI fields in Los Baños, IR8 produced an average of 9.4 tons per hectare.
In the business of growing food, this breakthrough is no small deal. The Philippine press dubbed the grain a befitting "Miracle Rice."
IR8 and 'Jaya' in India
Earlier this year, Prime Minister Narendra Modi launched a seven-point strategy that aims to double rice farmers' income and reduce rural poverty by 2022 through innovations in food and farming.
This strategy will propel India's vibrant rice sector onto another promising trajectory, made possible by a rich history in plant breeding innovation.
In the late 1960s, IR8 was introduced in India at about the same time another variety, 'Jaya,' was released. Quick field evaluations and rapid promotion of the two varieties by the Indian government, with the help of some
pioneering Indian farmers
, started the country's own Green Revolution in rice.
Jaya, bred from an IRRI-introduced variety and an indica variety, is a high-yielding semidwarf rice that produces long, bold grains—preferred qualities of the Indian palate. It was a product of intensive breeding under the All-India Coordinated Rice Improvement Project (AICRIP),
a collaboration
between India and IRRI launched by the
Indian Council of Agricultural Research
(ICAR) in 1965.
The event on November 21 will celebrate this rich history and features a panel of global experts to speak on the future of the rice industry.
Back where it all started
In the Philippines, where IR8 and succeeding high-yielding rice types had their first real-world tests, the 50th year celebrations will be held in a Farmers' and Partners' Dayat the IRRI headquarters in Los Baños on November 29.
Agriculture Secretary Manny Piñol will be presenting the Philippine government's rice program in a session. The Philippine Department of Agriculture is a staunch partner of IRRI in its mission and in the IR8 commemoration.
Peter Jennings
, who led the breeding team that developed IR8, will be coming to speak about IR8 and the revolution it catalyzed.